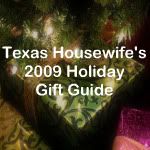 One of my favorite holiday traditions is putting in a CD of Christmas tunes, donning an apron, and hitting the kitchen. I start whipping up all sorts of baked goodies as Christmas gifts for loved ones and neighbors. It doesn't take long for wonderful aromas to fill` the house, as I sing along, stirring, sifting, and mixing. I love cooking so much and especially enjoy it during the holidays.
Since this is my favorite time of year to hit the kitchen, I was thrilled when given the chance to review Nielsen-Massey Vanillas' A Century of Flavor. This is a fantastic cookbook! It is filled with beautiful photographs, easy to understand recipes, and oh my does it have some delectable food inside! There are recipes for everyone from the beginning cook to the experienced chef. Many can be made with minimal prep and fuss. I love low fuss! If you want to make something more adventurous, they have that too! I made the most marvelous scones I've ever eaten with a recipe from this book. A Century of Flavor is going to be treasured in my kitchen for years to come.
Check out these amazing recipes!
Creamy Vanilla Sweet Potatoes
4 medium sweet potatoes
~canola oil
2 ounces cream cheese, softened
½ cup (1 stick) butter, softened
¼ cup real maple syrup
1 tablespoon Nielsen-Massey Tahitian Pure Vanilla Extract
½ teaspoon salt
¼ teaspoon pepper
5 strips bacon, crisp-cooked and crumbled
Preheat the oven to 400 degrees. Wash the sweet potatoes and lightly coast the skins with canola oil. Pierce each potato several times with a fork. Place the potatoes on a foil-lined baking sheet. Bake for 1 hour or until fork tender.
Cut the hot potatoes into halves. Scoop the potato pulp into a mixing bowl, discarding the skins. Beat at medium speed for 1 minute using an electric mixer. Add the cream cheese, butter, syrup, vanilla extract, salt and pepper. Whip until creamy.
Spoon the whipped potatoes into six ramekins coated with nonstick cooking spray and top with the bacon. Place the ramekins on a baking sheet. Bake in a preheat 375-degree oven for 5 to 8 minutes or until heated through. Alternatively, they may be reheated in a microwave for 2 to 3 minutes.
Serves 6
Crisp Vanilla Butter Cookies
1 cup (2 sticks) butter, softened
1 cup sifted confectioners' sugar
1 tablespoon Nielsen-Massey Madagascar Bourbon Pure Vanilla Powder
2 eggs, lightly beaten
2 cups unbleached all-purpose flour
1 teaspoon baking powder
¼ teaspoon cinnamon
¼ teaspoon salt
½ cup chocolate pieces of choice
Cream the butter, confectioners' sugar and vanilla powder in a mixing bowl using an electric mixer on medium speed. Add the eggs and beat until light and fluffy. Beat in the flour, baking powder, cinnamon and salt on low speed until just blended. Place the dough on parchment paper and shape into a 12-inch long log. Chill for 3 to 24 hours.
Preheat the oven to 350 degrees. Coat an insulated cookie sheet with nonstick cooking spray. Cut the dough log into ¼-inch-thick slices and place on the cookie sheet. Bake for 10 to 12 minutes or until golden brown. Cool on a wire rack. Place the cooled cookies on a parchment-lined cookie sheet.
Place the chocolate pieces in a microwave-safe bowl. Heat on High for 15 seconds. Repeat at 5-second intervals, stirring and checking the consistency. The chocolate is ready when it freely drips from the spoon in a fine line. Spoon the chocolate into a large plastic food storage bag. Twist the bag until the chocolate is in one corner and then trim the tip of the bag. Drizzle the chocolate over the cookies.
Variation: Add ½ teaspoon of any Nielsen-Massey Pure Flavor Extract, such as Chocolate, Almond, Lemon, Orange or Coffee, to the cookie dough to create a signature cookie.
They make your mouth water, don't they? I bet you'd love to read more of these wonderful recipes. You are in luck, as I have three of these fantastic cookbooks to share with my readers! All you have to do to enter is head over to
Nielsen-Massey Vanillas
, then come back here and leave me a comment with something you learned or a recipe you'd love to try.
For Bonus Entries:
*Follow on
Networked Blogs
. This is worth 5 entries, so leave 5 comments.
* Subscribe to my blog.
* Follow my blog on Google Friend Connect.
* Follow me on Twitter & tweet this giveaway.
* Blog about this giveaway. It doesn't have to be a whole post, you can just mention it when you are posting about other giveaways if you wish. Just be sure to include a link back to here.
* Add my holiday gift guide button to your blog. This is worth three bonus entries, so leave 3 comments.
*Add my normal button to your blog. This is worth 5 bonus entries, so leave 5 comments.
* Stumble this post. Please leave your username.
Deadline to enter is 11:59pm CST on 12/14/09. Good luck!
Ramblings of a Texas Housewife Product Review and/or Giveaway Disclosure- I have received no compensation other than the offer of free product to review and/or giveaway. Any opinions expressed on Ramblings of a Texas Housewife are my own. My reviews are never reviewed or edited in any way by sponsors.