I'll admit it, I'm a fan of burlesque. It's an art that fascinates me and one I admire, as I'm the most uncoordinated person on the face of the earth. In my mind it is truly about the tease element of striptease and is far removed from what most would consider exotic dancing. You won't find a burlesque dancer crawling across the floor to a pounding beat leaving nothing to the imagination. Burlesque is all about the costumes, the dancing, the art of seduction.
I have been fascinated my burlesque for as long as I can remember. I recall growing up hearing stories of Candy Barr, a legendary Texan and infamous burlesque dancer. I don't know much about her, but she must have been it back in the day. When I think of who would be the "it girl" of burlesque these days, there is no choice other than the incomparable Dita Von Teese. The woman is amazing.
I was thrilled to find the book Dita Stripteese on EdenFantasys. It's actually a really nice set of three small flip books capturing a total of six of her burlesque routines. I have never seen anything quite like this set. I think the idea of a burlesque routine flip book is genius. This lovely book set would be a great gift for any Dita Von Teese or burlesque fan. I'm thinking this is a great gift for the hard to buy for men in your life.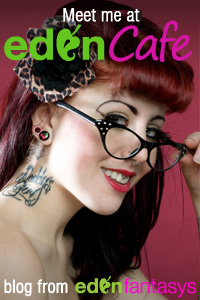 Disclosure: I was provided with a gift card in exchange for this post. The opinions expressed here are 100% my own and were not edited in any way.